Speaking Engagements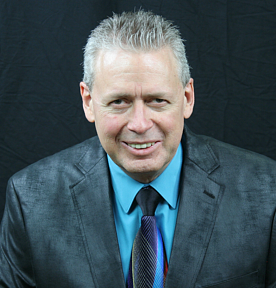 Randy speaks before associations and industry groups throughout the U.S. and Canada, and can be at your next event.
If you're looking for a completely new perspective on profitability, with the strategies and tactics to back it up, one of Randy's talks could be the perfect fit for your meeting.
Randy speaks on a number of topics that are relevant and important for tomorrow's business climate and market environment.
Why Analytics is Your New Best Friend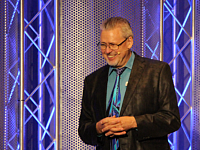 Breakthroughs in business analytics are opening new opportunities for companies and sales professionals, with detailed cost-to-serve information restoring profit margins and commissions that have been under siege.
In this session, Randy MacLean reveals how shifting sales strategy and customer relationships focus to Cost-to-Serve and Profit have helped companies and their customers both realize win-win opportunities and practices that have been driving the best gains seen in years. [60 min]
Best session so far with some key metrics we've never thought about before.
Competition-Crushing Strategy for 2017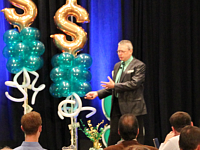 In private briefings for the executives of WayPoint-client companies, Randy has been recommending a new strategy that: delivers quality product; superior customer experience; lowest prices; and industry-leading profits. This apparent paradox is both possible and supported by the numbers—and gives a great deal of control over competitors' profits. [60 min]
This is Randy's most popular talk.
Outstanding session. This should be your keynote!!!
Analytics & Metrics for Supply Chain & Operations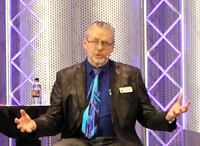 As we close in on 2020, excellence in Supply Chain and Operations takes on a new importance in the success, and even the survival, of distribution organizations. Winning the competitive battle is accomplished in the core competencies of distribution – moving product. In this session, we'll explore the newest thinking and analytics that give operations managers a real edge in driving their contribution to the company's cash flow and profits. [60 min]
Extremely well presented
Using Analytics to Drive Profit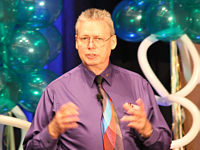 Did you know that most companies only get 20%-25% of the money they earn on their best business to the bottom line? Did you know that more 60% of their customer are unprofitable—by any measure?
In this session, Randy shares the advanced analytics the profit-leaders use to identify and correct the profit drains that exist every distributor. [90 min]
Super practical, thank you!
2020 Vision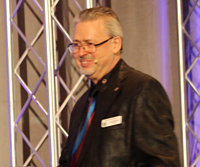 2020 Vision looks forward to the year 2020, identifying the sixteen objectively measurable elements that give top-tier companies the ability to lead their markets, industries and peers in profitability. Do you know what the profit-driving elements of the 2020 Vision are? Randy can lay them out for you and your group. [90 min]
Quantum Profit Management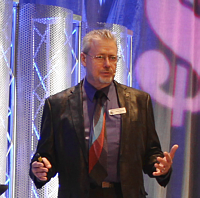 Top-tier wholesale / distribution companies produce three to four times the cash flow and profits of the average. Quantum Profit Management is the philosophical framework that keeps owners, executives and team members focused on what matters for the best bottom line. QPM-driven companies have the cash-flow and profitability do things others can't. Randy lays out the eight principles that guide substantial and sustainable profit gains. [60 min]
Fantastic session and speaker. Very pertinent and makes analytics look simple.
Profit-Based Sales Compensation Design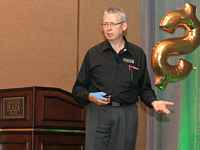 Profit-based commissions are the "Holy Grail" of sales force leaders—and for good reason. A good compensation program aligns the goals of sales people with the company owners and executives, and get everyone engaged in the fight for profits.
Before now, these programs have been the domain of the Fortune 100 and those with large design budgets, but new technologies have opened the door for companies at every level to participate. In this session, Randy lays out the process and reveals the tricks used by top designers to implement winning programs. [90 min]
Great job! Love the ideas — I'm going to have to lead the team to get the comp plan changed!
Making Your Own Success
A special session for the leaders of tomorrow.
The way to the top is open to anyone, but getting there might not be what you've been told. In this session, Randy shares the secrets that have set him apart across a career where he was:
the top salesman in a company with 850 branches;
the top branch manager in a national chain;
the youngest-ever National Sales Manager in a company with 126 locations and 44,000 employees;
and the founder and leader of eleven companies.
[60 min]
Randy, your program was a big hit last year and we are delighted you will be able to participate again this year.
Your Topic
Randy can tailor any of his regular talks to perfectly suit your group.
He can also develop a custom talk for your group, pulling elements from his expertise in management, profit strategies, logistics and sales. Call to discuss your event theme and purpose, and get the perfect talk to fit your agenda.
Randy's Bio
As President of WayPoint Analytics, Randy MacLean invented Quantum Costing and then the industry's leading costing system, helping clients realize profit gains of 200% and more. The best-selling author of three profitability books, he and his team advise top distribution companies on profit-related best practices.
An avid shooter and NRA instructor, Randy has ended his snow-shoveling phase and enjoys the Arizona heat with his wife and dogs.
Book Randy for Your Event Today!